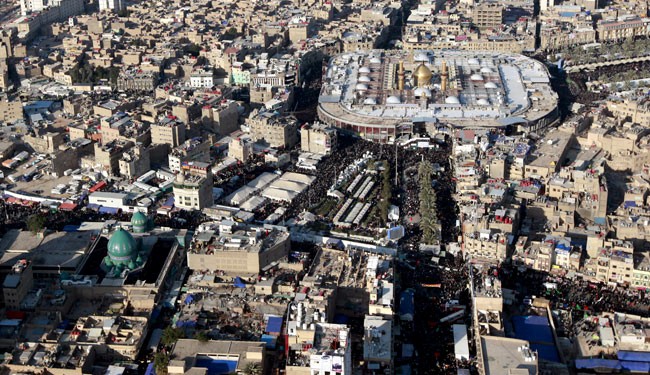 More than 6,000 Shia groups have announced that they are ready to welcome pilgrims on the traditional walking ceremony of Day of Arba'een in Iraq.
Every year, forty days after Day of Ashura which marks martyrdom of Imam Hussein and his companions in the planes of Karbala some 1400 years ago, millions of Muslims gather in the holy city of Najaf and walk all the way to Karbala in memory of Imam Hussein.
According to Shafaqna news website the Iraqi high commission for Husseini mourning groups issued a statement saying that, more than 6,000 groups have announced their readiness to help holding the magnificent spiritual ceremony.
Arba'een ceremony is consistently among the largest peaceful gatherings in history, which is going to be held on December 23rd, 2013.
The 78-kilometer road between Najaf and Karbala is equipped with tents, providing pilgrims with almost everything they might need on the way.
The Commission said all attempts are underway in order to hold the ceremony safe and successful.
Observance of Arba'een in Karbala was banned for many years when Saddam Hussein, was president of Iraq.
For nearly 30 years under Saddam's regime it was forbidden to mark Arba'een publicly in Iraq.
In 2008, approximately nine million religious observers converged on Karbala to commemorate Arba'een.
However, in 2009, the number of people visiting Karbala on Arba'een significantly increased. According to the official website of BBC News and Press TV over ten million people had reached the city of Karbala one or two days before Arba'een.
According to Al Alam during the last Arba'een event which was on January 3rd, 2013, more than 18 millions of people walked toward the historic city of Karbala from across Iraq.